Wildcards Haase en Krajicek voor Rosmalen →
Krajicek receives MDWC for WTA 's-Hertogenbosch (Topshelf Open)
Krajicek withdrew from Prague (13-5)
Tournament Schedule →
Tournament schedule updated with WTA Birmingham (10-6)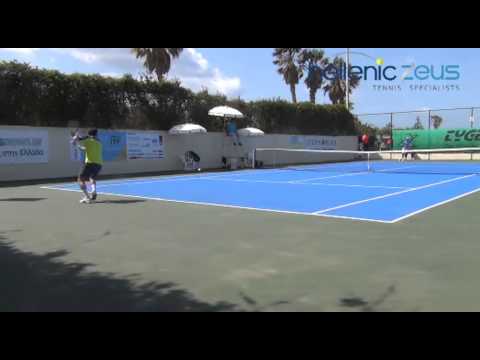 Krajicek wins Heraklion! def. de Vroome 36/62/64
Great week for Misa in her comeback. Singles and doubles title
Krajicek def. von Deichmann 75/60 and reaches...
Will play compatriot and doubles partner Indy de Vroome in the final. Still not a set lost in singles this week
Krajicek and de Vroome win the doubles title at...
Great fight from Misa and Indy in the match TB.
Watch
Heraklion: Krajicek d. Bowtell 62/61 and reaches...
Later today, Misa also will be in action for the doubles title with Indy de Vroome
Misa and Indy into the doubles final of Heraklion,...
They will play van der Hoek (Dutchie)/Mori in the final
Krajicek into the QFs of Heraklion, def....
Not sure if the doubles SF will be played later today
Heraklion QF: Krajicek/de Vroome def....
They meet Curovic/Kushkhova in the SF
Heraklion R1: Krajicek wins first singles match...
Welcome back Misa! Top500 player Curovic up next
Heraklion doubles R1:
Krajicek/de Vroome def. Klackenberg/Vasovic 62/60
Heraklion 10K singles & doubles draw: singles R1...
(1) Anna FLORIS ITA vs q Chiara VOLEJNICEK SUI Imane Maelle KOCHER SUI vs Yuka MORI JPN Borislava BOTUSHAROVA BUL vs Vivien JUHASZOVA SVK (6) Nuria PARRIZAS-DIAZ ESP vs wc Agni STEFANOU GRE (4) Indy DE VROOME NED vs q Josephine BOUALEM ESP LL Jessika PONCHET FRA vs wc Ani VANGELOVA BUL q Marcella CUCCA ITA vs LL Emma FLOOD NOR (8) Aminat KUSHKOVA RUS vs Nikola VAJDOVA SVK (5) Amy BOWTELL IRL...
http://misakrajicek.tumblr.com/schedule →
Tournament schedule update: Trnava 75K and Prague 100K added. Source: https://www.facebook.com/pages/Michaella-Krajicek/361544450448?ref=ts&fref=ts
http://misakrajicek.tumblr.com/schedule →
Tournament schedule update for week of 15-4: Heraklion 10K MD
Michaella Krajicek's comeback coming closer
After a long struggle with injuries and illness, Misa is on the verge of coming back. The plan, for now, is to come back mid or end of April. Her ranking will have dropped badly, so she'll have to play ITF (future) tournaments first. She's able to use her protected ranking, which a player can request when they're 6+ months out. With her PR she's eligible to play 9...
Michaella Krajicek probably out till end of March
She's still having health problems and it's probably going to take a while before she's back on the WTA tour. She hopes to play again in March, but nothing is certain as her health is the most important. Earlier this year she had a knee injury,viral illness and other health problems. Now she's feeling really fatigued, not able to train. Doctors can't find anything...
Tournament schedule update for week of 12-11:... →
Tournament schedule update →
Tournament schedule update (based on entry lists) →
Tournament schedule update (week of 15-10) Not... →
Michaella Krajicek won't play any tournaments... →
Krajicek drops out of the top100. She's ranked...
Next week she will fall out of the top 125, because she will lose her Quebec (semifinal) points. Next planned tournament is Guangzhou that starts next week
Krajicek withdraws from WTA Quebec (10-9)
Misa isn't on the players list anymore. Players list got updated yesterday http://www.challengebell.com/fr/joueuses
US Open doubles: Hsieh/Medina def....
End of the US Open for Misa
Krajicek: 'there aren't many girls on WTA that had...
Going to try my best to end the year on a good note. INSPIRING
Krajicek loses R1 of the US Open. Parmentier def....
Parmentier was dominant on her own service. Misa had BP's, but had a low conversion percentage. Parmentier was up the whole match. Tough loss, but great to see Misa back at the highest level. Never easy to come back , especially after the injuries and health problems. Most important is that Misa gets matches under her belt. She needs match rhythm
Krajicek loses the first set vs. Parmentier 2-6
Frenchwomen strong on her own service
Doubles draw: Krajicek/Parmentier vs. Hsieh/Medina...
Tough draw for Misa and Pauline (1)Huber/Raymond v Daniilidou/Dellacqua Gajdosova/Rosolska v Govortsova/Kudryavtseva Dushevina/Tanasugarn v Foretz Gacon /Lucic Krajicek/Parmentier v (16)Hsieh/Medina Garrigues
Krajicek will play doubles now with Parmentier...
She had to find another partner because Cetkovska withdrew
US Open: Krajicek will play her singles match vs....
4th match on court 6. The first match will start at 17.00 CET, so Misa probably will play around midnight Court 6 11:00 AM  Men's Singles - 1st Round Tim Smyczek (USA) vs. Bobby Reynolds (USA)  Women's Singles - 1st Round Timea Bacsinszky (SUI) vs. Mallory Burdette (USA)  Women's Singles - 1st Round Nicole Gibbs (USA) vs. Alize Cornet (FRA)  Women's Singles - 1st Round...
Interview with Krajicek in FORTY LOVE
Link: http://fortylove.nl/magazine/magazine.html#/Forty%20Love%202012%2003/42
Petra Cetkovska (Krajicek's doubles partner)...
She withdrew with an ankle injury. Probably no doubles for Misa
Preview: Krajicek vs. Parmentier (US Open R1)
Misa plays Pauline Parmentier in R1 of the US Open. Obviously, every opponent in a GS MD is a tough opponent. But this is a winnable R1. Going to be tough though, considering Misa's lack of match rhythm. The draw could have been way worse, so we should be pleased. Who is Parmentier? Pauline Parmentier is 26 yo.,  from France and plays righthanded. She has been inside the top100 or just...
Official: Krajicek will play at US Open
After missing 2 months with a viral illness. After the USO she's going to play 5 WTA's in a row. (see tournament schedule)
Tournament schedule update →
Misa will make her return soon after being out for...
She let us know on twitter/facebook https://www.facebook.com/photo.php?pid=12875726&l=ccf2139659&id=361544450448 First planned tournament seems to be Dallas (19.8)
Krajicek withdraws from Olomouc (23.7)
Tournament schedule update →
Tournament schedule update →
Also withdrew from Bastad today
She withdrew from Palermo and Bastad this week. No information on next planned tournament
Krajicek withdraws from Palermo (9-7)
Next tournament planned is Bastad
Krajicek withdrew from Wimbledon because of a...
Michaella Krajicek withdraws from Wimbledon
Misa already had to retire in Birmingham and had to withdraw from 's-Hertogenbosch, both with a viral illness
Tournament schedule updated (based on entry lists) →
Krajicek won't play at the Unicef Open. She's...